An outdoor kitchen is a great addition to any deck or patio, allowing you to cook, entertain and dine outdoors. When planning an outdoor kitchen, consider the layout carefully, ensuring adequate countertop space for food prep and cooking, as well as storage for utensils, dishes, and pantry items. Think about traffic flow – you don't want people crowding the grill master. Allow 3-4 feet clearance around grills and appliances.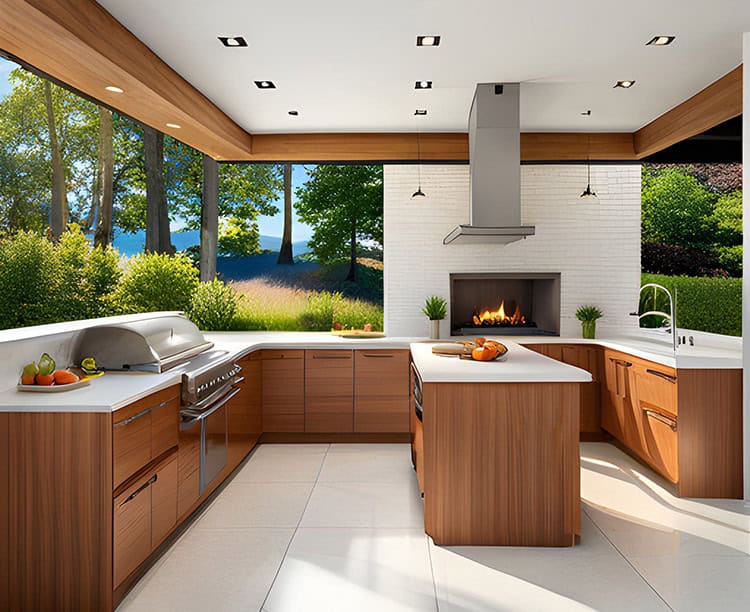 Choose materials that can withstand the elements like stone, tile, stainless steel and weather-resistant woods like teak. Opt for surfaces that won't get too hot in sunlight. Include some covered areas for shade and protection from rain.
Incorporate features like a sink, mini-fridge, grill, side burners, pizza oven, ice maker or kegerator based on how you'll use the space. Pick durable, commercial-grade appliances designed for outdoor use.
Ensure proper ventilation, lighting and electrical outlets to support the kitchen's functions. Use overhead string lights to illuminate counters and add ambiance.
If designing a built-in masonry outdoor kitchen, get help planning the layout from a landscape designer or contractor. Obtain all necessary permits and ensure proper gas and electric hookups if needed.
No matter the size, create zones for different tasks – a grill station, sink area, prep zone, dining space. Have a cleaning area with storage for supplies. Decide if counter space is better extended in an L-shape or U-shape based on the footprint.
If a deck is part of your outdoor kitchen plan, you'll have a few extra considerations to throw into the mix.
Weather – It's best to build a deck during the warmer months when there is less chance of rain, snow or extreme cold. This allows the wood to properly cure and lets the workers avoid slippery or freezing conditions. Late spring through early fall is generally the ideal timeframe.
Builder Availability – Deck builders tend to get booked up during peak construction season in summer. To ensure you can get on their schedule, try booking a few months in advance for a spring, summer or early fall build.
Cost – Prices on lumber and contractor labor may be higher during peak season. Building in the spring or fall can provide some cost savings.
Use – If you want to enjoy the deck all summer long, schedule the build in early spring. If you mainly want it for fall, a late summer or early fall build could work.
Curing Time – Freshly treated lumber needs several weeks to cure before sealing or staining. Keep this in mind so your deck is ready when you want to use it.
Permits – Check how long permit approval takes in your area. You don't want this to cause delays in your builders schedule.
By planning all the details and features in advance, you can create the ultimate outdoor cooking and dining space perfect for your home and entertaining needs. Let me know if you need any other tips as you design your outdoor kitchen oasis!